WHAT!? NO PHOTOGRAPHIC MEMORY!!? Not to worry. Book Darts is one fine solution Book Darts are precision-cut, paper-thin metal line markers that attach easily to any page. To use, place Book Dart at desired line, close book and press in. Sliding a Dart onto a passage assures you can recall it easily even in a closed book.

Elegant enough for great museum shops, book-friendly enough for public libraries, often judged indispensible by students, educators, and other readers of what has lasting value. Answers the question: "How can we mark our exact passages, find them again, quickly and surely, and never harm the page?"
FIND WHAT YOU NEED FAST! A tool for re-examining and sharing reading discoveries!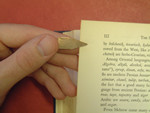 * Book Darts slide easily on and off the page without damaging your books. Use again and again for a lifetime.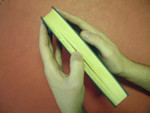 * Eliminate: Bent corners, Paper clips, Underlining, Highlighting, "Sticky Papers" (and sticky pages).
* Place cursor over images to see Book Darts in action.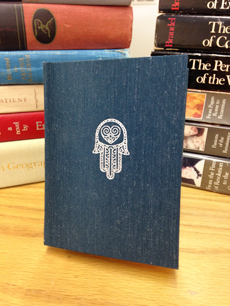 Spring 2015 Blank Books & Journals Now in Stock
New 2015 Notebooks, Daybooks, Pocket Books and Journals are here! Brand new selections from iPaper Design Studio, Pettingell Book Bindery and more. Handmade, limited edition volumes at great prices.
All Blank Books now 10% off!
Chart Your Course with TRAVEL TIPS
Our travel-themed line markers are perfect for field guides, maps, train schedules, phrase books, or any other reading you undertake on the go. Pick up a Travel Tips Reading Kit featuring one 200-count Travel Tin and three Travel Sleeves for $22.00. See why The Washington Post called them "an alternative to dog-eared pages or sticky notes" in your guide books.
"Lege Serio" — READ LIKE YOU MEAN IT!
Make each book an ongoing resource, not a graveyard of ideas. Now you don't have to remember all the answers, just where to find them. Book Darts are a tool for recalling exactly what you need from within any text. Once you find it, we'll help you hang on to it. Think of each dart as a switch that turns ideas on again. When you've discovered something important in your reading, Book Darts make sure you'll find it again when you need it.