WHAT!? NO PHOTOGRAPHIC MEMORY!!? Not to worry. Book Darts is one fine solution Book Darts are precision-cut, paper-thin metal line markers that attach easily to any page. To use, place Book Dart at desired line, close book and press in. Sliding a Dart onto a passage assures you can recall it easily even in a closed book.

Elegant enough for great museum shops, book-friendly enough for public libraries, often judged indispensable by students, educators, and other readers of what has lasting value. Answers the question: "How can we mark our exact passages, find them again, quickly and surely, and never harm the page?"
FIND WHAT YOU NEED FAST! A tool for re-examining and sharing reading discoveries!
*Place cursor over image to see Book Darts in action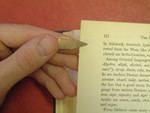 * Book Darts slide easily on and off the page without damaging your books. Use again and again for a lifetime.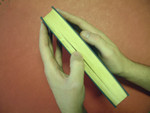 * Eliminate: Bent corners, Paper clips, Underlining, Highlighting, "Sticky Papers" (and sticky pages).
"Lege Serio" READ LIKE YOU MEAN IT!
Make each book an ongoing resource, not a graveyard of ideas. Now you don't have to remember all the answers, just where to find them. Book Darts are a tool for recalling exactly what you need from within any text. Once you find it, we'll help you hang on to it. Think of each dart as a switch that turns ideas on again. When you've discovered something important in your reading, Book Darts make sure you'll find it again when you need it.












NEW: LITERARY BOOKMARKS!
A wonderful new collection of reading-themed bookmarks beautifully rendered by artist Carol Dubosch of Portland, Oregon. Carol is an immensely talented master calligrapher with vast knowledge of calligraphy, chirography, letterform and ornamental script.

Each heavy-weight, parchment-patterned bookmark presents one of our favorite literary quotes exquisitely hand-drafted with notes by the artist on the inspiration and historical significance of each font.
Chart Your Course with TRAVEL TIPS
Our travel-themed line markers are perfect for field guides, maps, train schedules, phrase books, or any other reading you undertake on the go. Pick up a Travel Tips Reading Kit featuring one 200-count Travel Tin and three Travel Sleeves for $22.00. See why The Washington Post called them "an alternative to dog-eared pages or sticky notes" in your guide books.